R8 Quick Change Tooling System for Milling Machines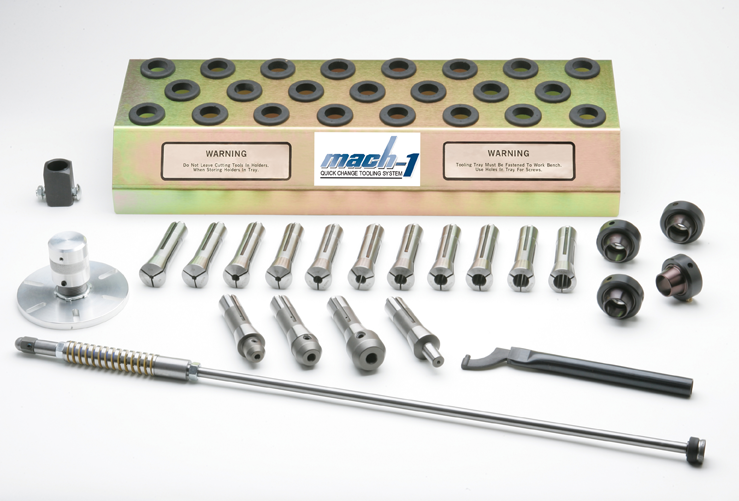 The MACH-1 R8 Quick Change Tooling System is a complete, cost-effective precision tool change system designed to increase efficiency and productivity on your knee mills & bed mills. The system was designed to upgrade milling machines with R8 spindles that utilize inexpensive R8 Tooling.
Chip to Chip — Nothing's Quicker
With the Mach-1 system, tool changes that once took several minutes can now be accomplished in seconds. Increase productivity and profits with the Mach-1 Quick Tool Change System.
Mach-1 R8 Quick Change Tooling System Benefits:
• Installs on new or existing milling machines
• Change tools in seconds
• Uses your existing tooling
• Maintains tool length offsets between collet changes
• Provides increased accuracy and repeatability
• Handles light and heavy milling operations
• Ergonomic design reduces operator fatigue
• Maintenance-free system
• Full-size R8 tool holders that accept double-ended tools
• Includes five year warranty
Our patented² Collet Closer allows for preset tooling that maintains the tool length offset to work piece zero. This enables collets to be changed as quickly as solid tool holders with a greater range in sizes and higher precision of collets. A durable preset die spring ensures this precision is repeatable and reliable with every tool change.
The MACH-1 R8 system patented³ drive collar is engineered with the most rigid R8 tool holders and can handle heavy milling operations with ease.
The Mach-1 R8 System can be installed on new or existing R8 style vertical knee mills and bed mills. To install the Mach-1 system simply remove the drawbar of your mill and replace it with the Mach-1 system drawbar.
This simple design has been increasing productivity for our customers for over 10 years. With a 5 year warranty, the Mach-1 patented drawbar has the longest warranty in the industry.
Designed to be compatible with manual CNC milling machines such as Bridgeport, Prototrak, Kent, Sharpe and Acra.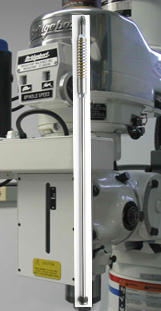 How The System Works
The MACH-1 R8 Quick Change Tooling System uses a special drawbar assembly that has a patented tool-holder locking mechanism. The locking mechanism uses a 600 lb. preset die spring coupled with a hardened and ground ball coupling. The design ensures the same forces are exerted with every tool change and provides maximum repeatability and reliability.
The special drawbar assembly replaces your existing machine's drawbar and installs directly into the R-8 spindle. Tool changes are accomplished by pushing back on the quill handle. This action uses the mechanical advantage of the rack and pinion (quill and quill handle) to release the balls in the coupling. A 1/4″ stroke is all it takes to change tools. The MACH-1 System is maintenance free. No parts rotate when you change collets or tool holders. It doesn't need air, lubrication, or any other scheduled maintenance.
Tool Change Steps
Once you have installed your MACH-1 R8 Quick Change Tooling System, you can use these three simple steps for tool changes: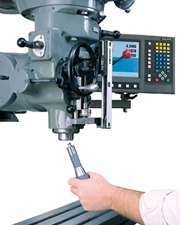 Step 1
Insert tool holder into spindle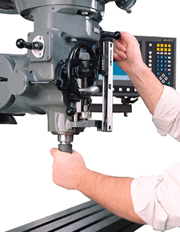 Step 2
Push the quill handle back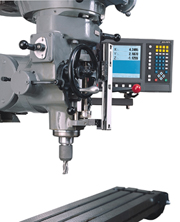 Step 3
Release the Quill Handle
Mach-1 R8 Quick Change Tooling Systems
Mach-1 offers several versions of quick change tool systems to upgrade your R8 style milling machine to the speed of Mach-1 R8 tooling system.
Mach-1 R8 Two-Axis Variable Speed System
The Mach-1 Two-Axis System includes everything you need to upgrade your milling machine to the Mach-1 R8Quick Change Tool System, along with a full set of R8 collets, collet closers, tool holders, hardware and a tool tray. An illustrated reference manual and an online video guide you step-by-step through the installation process. The manual also has illustrated instructions for operating the MACH-1 system with a wide range of tooling.
The Mach-1 R8 Two-Axis Step Pulley System
The Mach-1 Two Axis Step Pulley System contains the same components as the two-axis package with an actuator cap that allows the full use of the back gear lever.